Welcome to Lifestyle Tropical Beach Resort & Spa
Lifestyle Tropical Beach Resort & Spa All Inclusive
Stretching along 1.5 miles of golden sands at Cofresi Beach, the jewel of the Amber Coast, lays The Tropical at Lifestyle Holidays Vacation Resort, the essence of a true tropical beachfront resort experience.
The buildings are 3-Story Mediterranean style, amid Caribbean influenced roofs and cobblestone walkways, comfortably blending with the surrounding mountain ranges and the sparkling hues of the ocean.
This resort has everything you could want in a vacation, from ocean views and sandy beaches, to snorkeling, tennis or jogging. Fantastic food, unlimited drinks, an exciting nightly entertainment, and bars, all provided amidst the beauty and friendliest service in the world, right on Confresi Beach.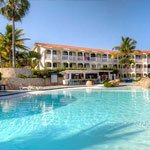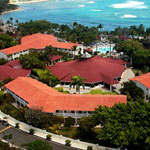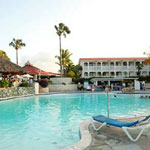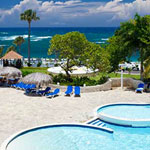 Amenities & Facilities
The Lifestyle Holidays Vacation Resort is the perfect choice for those who appreciate the sporting life and invigorating activities. On-site diversions include the Lifestyle Holidays Polo Club, tennis courts, fully-equipped fitness club, world-class spa and so much more.
Surrounded by sun, sand and sea, guests can enjoy non-motorized water sports plus fishing and sailing of every kind. An on-site diving school prepares you for scuba and snorkeling around the coral reefs off Cofresi Beach.
Take an ecological tour of Gri Gri Lagoon. Ride a cable car up into the mountains. Reserve a day for whitewater rafting at the Yacque del Norte River or rent a 4-wheel-drive truck and explore the jungle.
When you're in the mood to see local city sights, Puerto Plato offers an oceanfront boulevard lined with intriguing shops, cafes and galleries. On Duarte Street, the Amber Museum displays one-of-a-kind pieces from local mines, intriguing amber fossils and more. While the Fuerte San Felipe (San Felipe Fort) offers a glimpse back in time to the days of Christopher Columbus.
11 All Guest restaurants for a la carte dining (Reservations may be required) including 2 International Buffet restaurants (No reservations required)
12 Bars for All Guests
12+ Pools Including Exclusive Kid's Pool Areas
7 Beaches:
V.I.P Lifestyle Beach (V.I.P Members Only)
Cofresi Beach
V.I.P Beach
Serenity Beach (V.I.P Members Only)
Harmony Beach (V.I.P Members Only)
Déjà View Beach (Shareholders Only)
V.I.P NV Beach (V.I.P Members Only)
Nightclub: ICE
2 Entertainment Centers:
Colosseum
Lights, Camera, Action Theatre
Non-Motorized Water-Sports:
Snorkeling Equipment
Boogie Boards
Kayaks
Tennis Courts
Basketball Court
Beach Volleyball Court
Health Club
2 Gyms with Exercise Equipment
Various Shopping Areas
Merchandise store
Life-Size Chess Game
Synagogue
For Children
Kid's Club and Kid's Art Club
Supervised Kid's Club Opened Daily
from 9:00 a.m. to 12:00 p.m. and
from 2:00 p.m. to 5:00 p.m.
Daily Activities Program for Children 4 to 12 years old
Two Children's Pools
Mini-Disco
Teen's Activities
Playground
Extra Services & Facilities
Personalized Weddings with Weddings in Paradise
Water Sport Center
Various Shopping Areas
Arcade
Tennis Clinics
SPA Services at Choice of Two: Yin Yang Spa and Metamorphosis
Scuba Diving School (PADI Certified)
Excursion Center (V.I.P World and The Tropical locations)
Car Rental
Babysitting Services
Medical Clinic
Pharmacy
Activities, Sports & Entertainment
Introductory Scuba Lesson in Pool (PADI Certified)
Non-Motorized Water Sports
Access to Fitness Center & Health Club
Nightly Entertainment Includes:
Colosseum and Lights, Camera, Action Theatre Shows
Admission to ICE Nightclub (Drinks Not Included)
Tennis Usage (Daytime)
Shuttle Service on Property
Los Mangos Executive Golf Course: 9 Hole Green Fee or Half-Hour Tour Clinic Per Stay
Daytime Activities Program Includes:
Jogging
Games
Music
Spanish Lessons
Beach and Pool Volleyball
Stretching
Aqua-Aerobics
Dance Lessons
Daily Children's Entertainment Programs
Kosher Program
LHVC has been honored with the distinction of receiving the prestigious OK Kosher Certification, one of the most respected global symbols of kosher approval in an era of soaring demand for kosher food. This investment and addition was done in order to provide a Lifestyle Vacation Experience for both members and guests who keep Kosher. Established in 1935, the OK Kosher Certification is one of the world's most respected symbols of kosher approval.
Lifestyles' complete year-round kosher vacation experience features a full kosher kitchen with kosher chef in residence, kosher restaurant, a synagogue, rabbinical services, and a kosher villa environment upon request. The kosher restaurant operation will be under the strict rabbinical orthodox supervision of OK Kosher's Rabbi Don Yoel Levy and Rabbi Gornish and new kosher chef, Daniel Ohana, with mashgichim on site, Rabbi Israel Levin, following the Kashruth Jewish Dietary Law for Glatt kosher, Cholov Yisroel and Pas Yisroel food. A variety of Sephardic, Ashkenazi, and international menu items will be offered.
Kosher Chef and Rabbi for Year-Round Kosher Vacation Experience has joined the LHVC family!
Daniel Ohana has been appointed Kosher Chef and rabbi in residence Israel Levin, Mashgaich Kashrut, at Lifestyle Holidays Vacation Resort in Puerto Plata, Dominican Republic, both with key roles for Lifestyle's year-round Kosher Vacation Experience featuring a full kosher kitchen, a kosher restaurant with a buffet and an a la carte menu, orthodox synagogue, rabbinical services and a planned kosher villa environment.
Israel Levin is a 2000 graduate of Tel Aviv University with an education in computer science and computer maintenance. He is fluent in Hebrew, English and Yiddish. His work experience includes a career as mashgiach for kosher restaurant kitchens in Miami and Hollywood, Florida, as well as bookkeeping, office management and sales positions for real estate, appliance and jewelry companies in Israel and the U.S.
Ohana graduated from the Cooking School Hotel Tadmor, worked as Cook at Hotel Gane Shulamit Eilat with Israel Kosher Food, as Sous Chef with Company Ship Sim Line, at Grill Time Restaurant Montreal Kosher Food, at Ilana's Catering, Florida Kosher Food, as chef at Four-Point Shertaon Niagara Falls Kosher Food Chabad, and as Chef with Jewish Federation Montreal Kosher Food.
Lifestyle Holidays has been honored with the distinction of receiving the prestigious OK Kosher Certification, one of the most respected global symbols of kosher approval in an era of soaring demand for kosher food.
Nightly Entertainment
The Colosseum – V.I.P World
Looking for a show, a song and dance number and maybe a laugh or two? With two entertainment complexes on property, experiencing any number of diversions is not a problem. The Colosseum is a large outdoor stage with various stage performances, while Lights, Camera, Action theatre is a more intimate indoor facility, yet both are dedicated to your amusement.
ICE Night Club – Cofresi Palm - Lower Level Lobby Area
Want to find the coolest place on property with an envious nightlife? ICE is the place. With nightly music, an incredible light show, awesome environment and flowing drinks. This is the place to put on the moves, dance the night away and maybe meet that special someone!
Lights, Camera, Action Theater at Cofresi Palm
Looking for a show, a song and dance number and maybe a laugh or two? Lights, Camera, Action Theatre is an intimate indoor facility dedicated to your amusement.